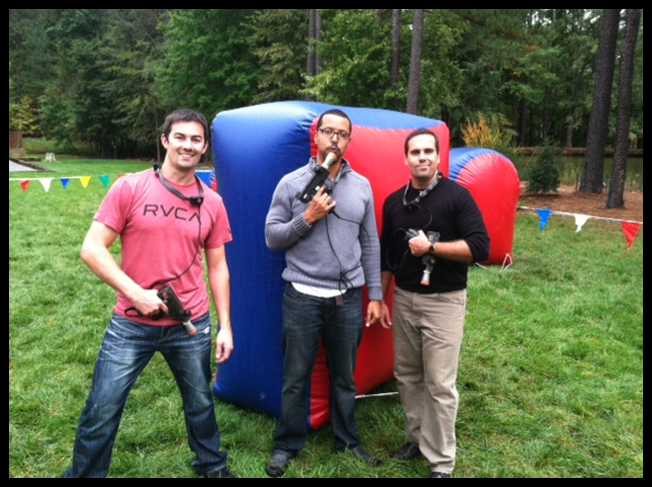 Enjoy a game of laser tag with your friends or family members.  Inflatable barriers and laser tag equipment make this for a fun and safe battle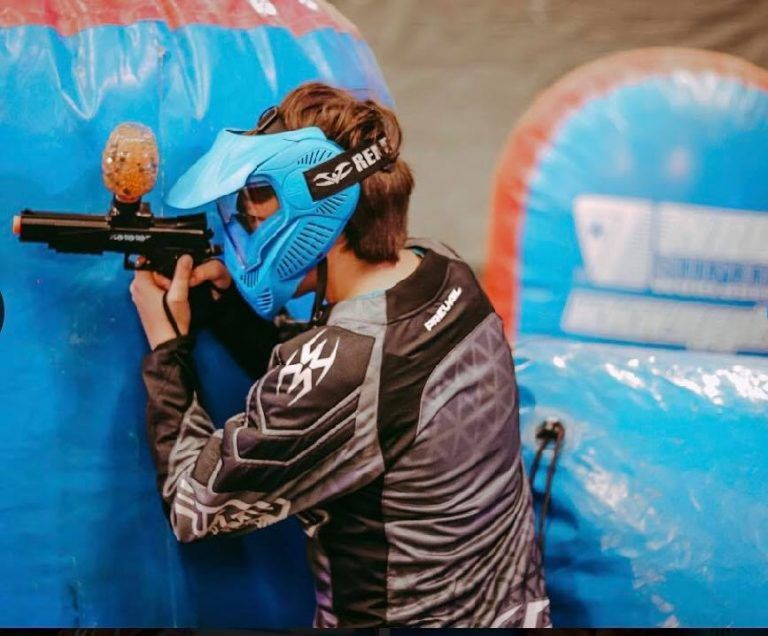 Gellyball Challenge
GellyBall is an ultra low impact sport – suitable for kids ages five and up. It uses GellyBall blasters – an easy-to-use gun that doesn't use much pressure to shoot GellyBalls.

Unlike Nerf – where you have to constantly reload with ammo off the floor, a GellyBall Blaster holds 750 shots without reloading!!!

GellyBall beads are non-toxic, non-staining and biodegradable. They are safe for pets, yards and people! They are water-hydrated and will shrink to a tiny size before disintegrating entirely – no mess, no clean-up!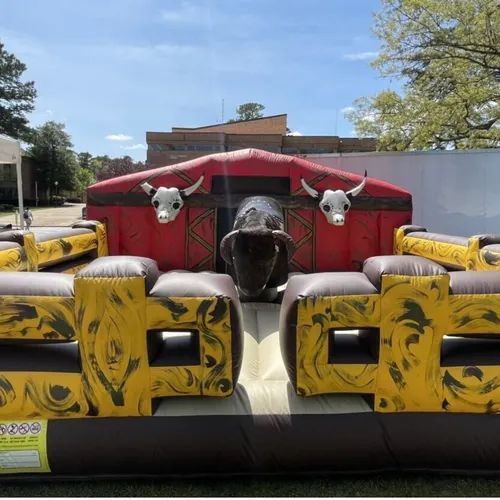 Wild West Mechanical Bull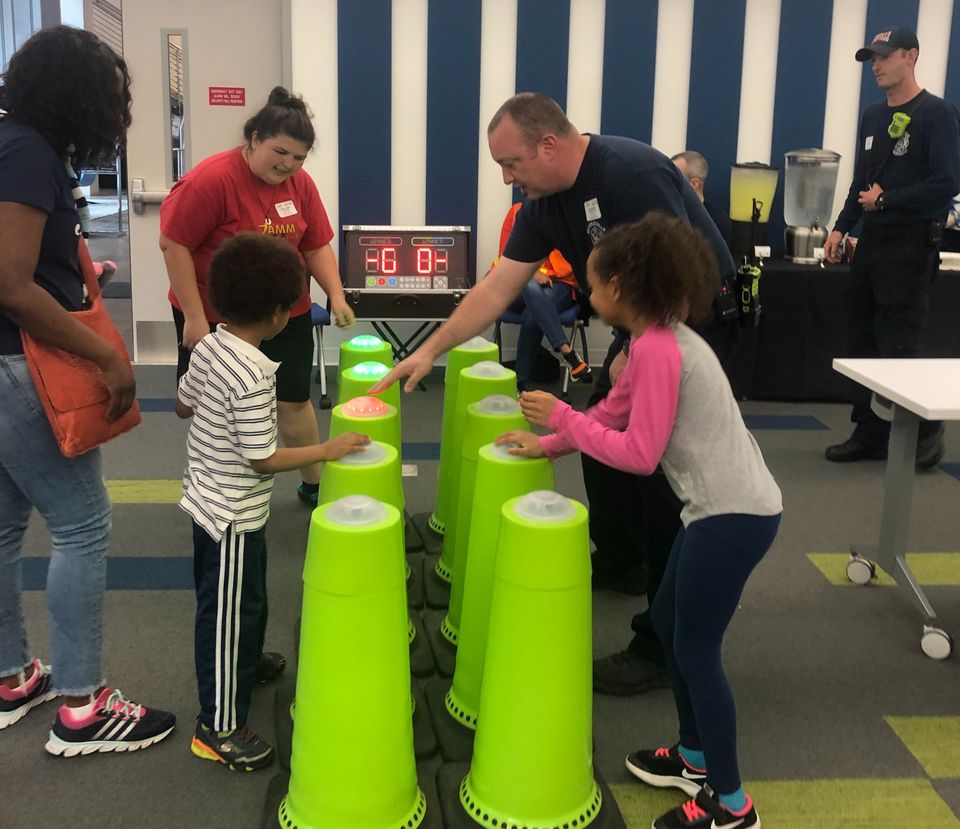 Tap Out 
Tap Out is a light up racing game. Compete with your friends to see who can be the first one done!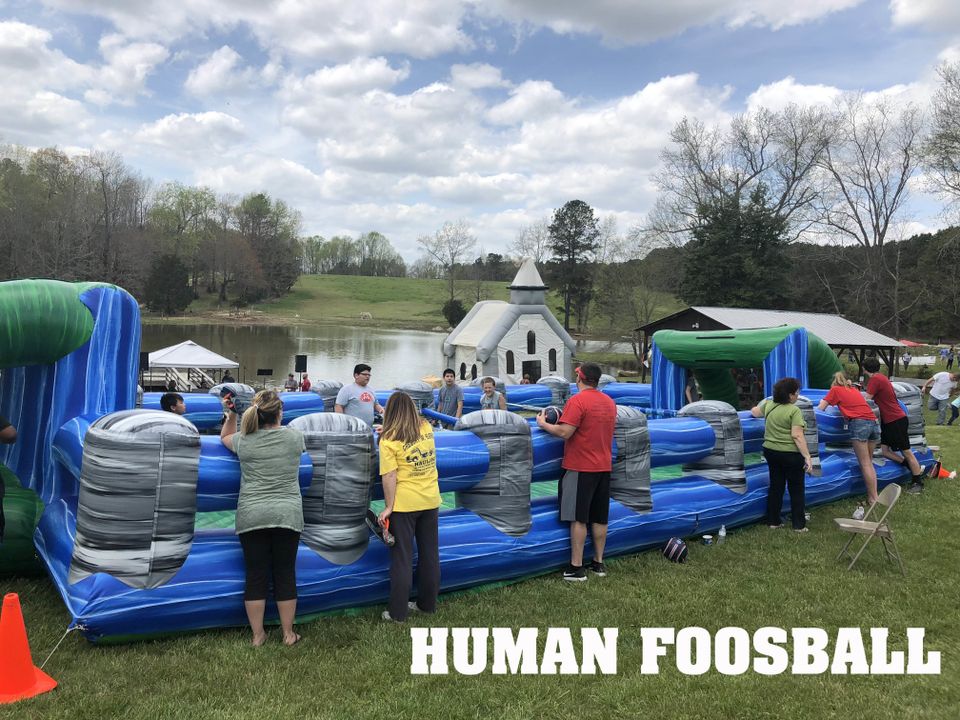 Human Foosball
Get 6-8 of your friends together and create your own life-sized foosball game inside the Inflatable Human Foosball Game. This inflatable interactive game comes complete with flexible rods to "move" each player and two enclosed goals to keep the ball in play.              
           
Dimensions: 35L x 20W x 7H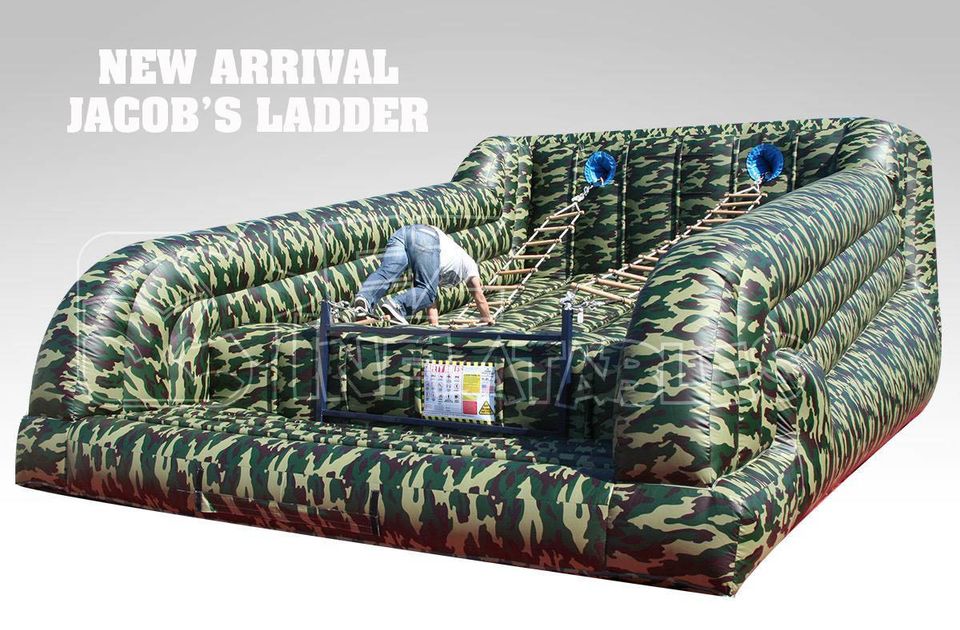 Jacobs Ladder 
Two contestants try to climb the swinging, turning, suspended rope ladders up to get to the top first. Don't worry, if they fall, they will land in the inflatable pillow!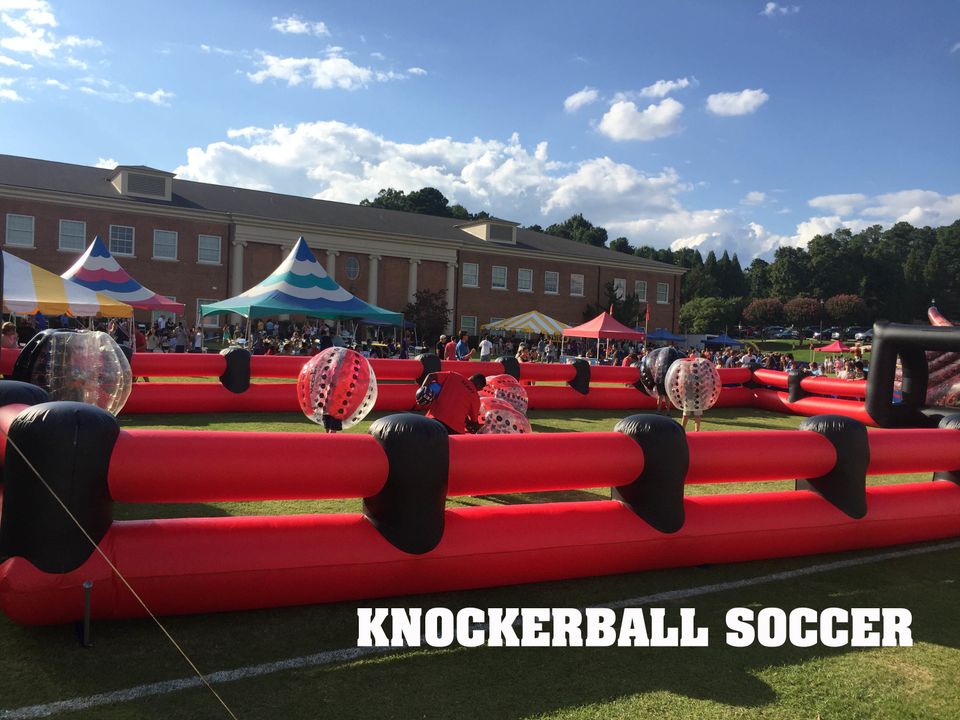 Knockerball Soccer
Suit up and play soccer!  The soccer field in an inflatable field measuring 80'x40'. The players are on teams of 3 or 4. Each player gets in his "bubble suit" and the first team to score 3 goals is the winner!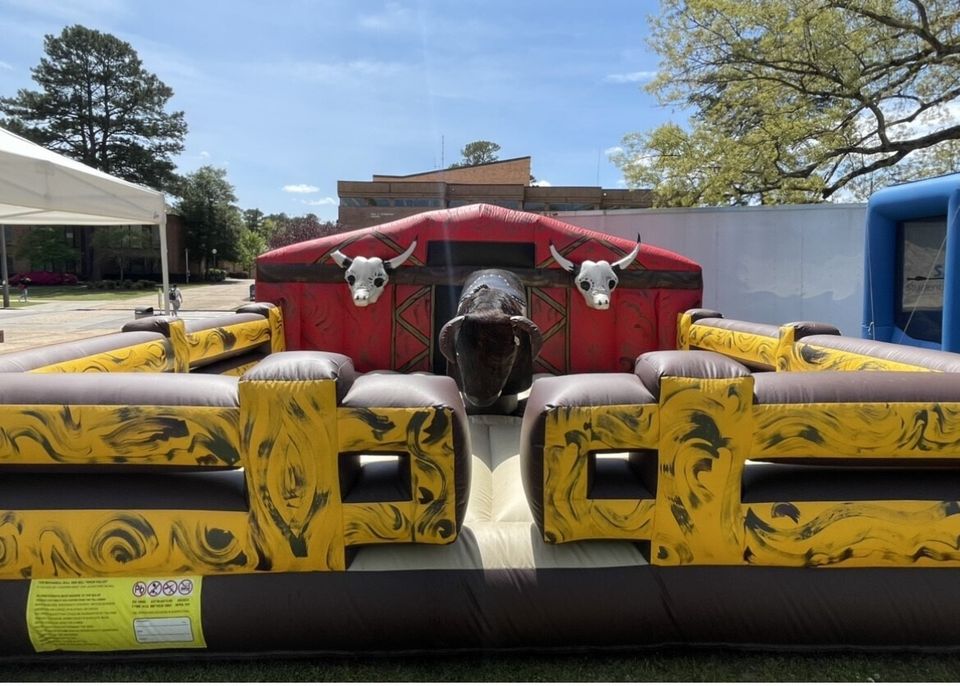 Wild West Mechanical Bull 
Saddle up and ride the Wild West Mechanical Bull! How long can you hang on?  25'x25' 
Water Tag

Grab a water gun and aim, shoot, fire to soak your competitors. You will get wet with this attraction! Great for some relief on a hot day.
Volcano Island Inflatable Rock Wall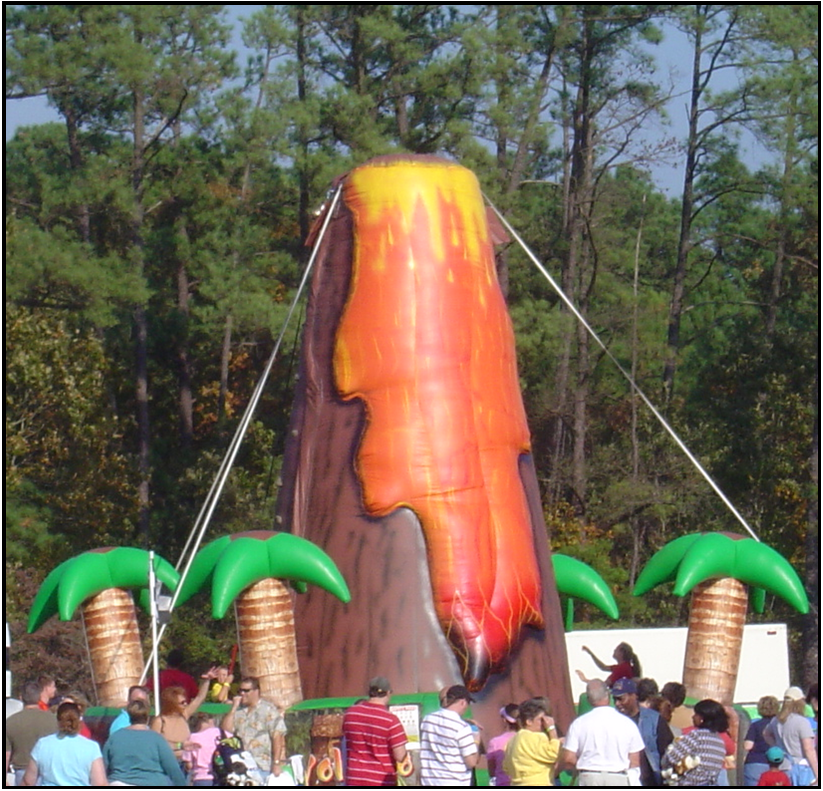 The Volcano Island is a 25′ inflatable rock wall. Two climbers at a time. Features actual climb holds and auto belay system for safety.
Lagoon of Doom
This bayou styled attraction features a rolling log which up to two participants must compete against each other before falling to the inflatable swamp below.  20'x20'
Tug N Dunk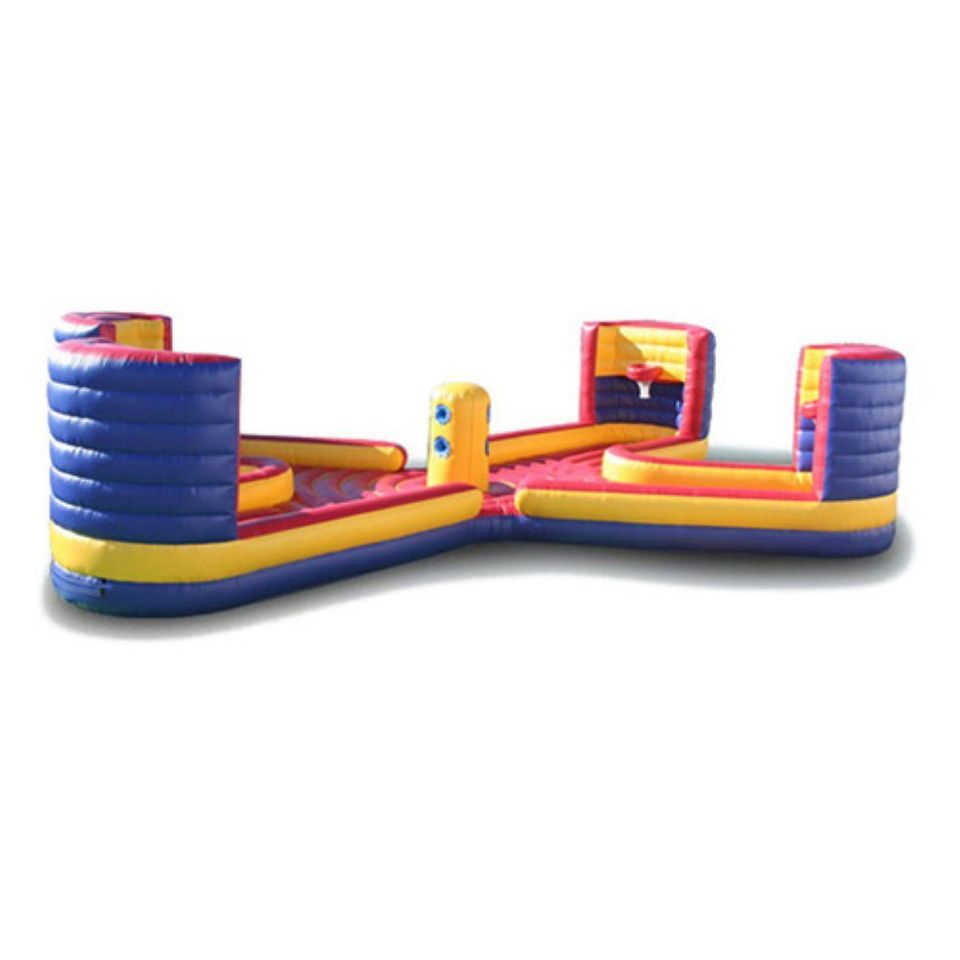 4 players attached to two different bungee cords start out with a go signal and the competition begins. Each player tries to slam dunk their ball and score on the other player. This is like the regular tug n dunk but supercharged.
Red Soccer Challenge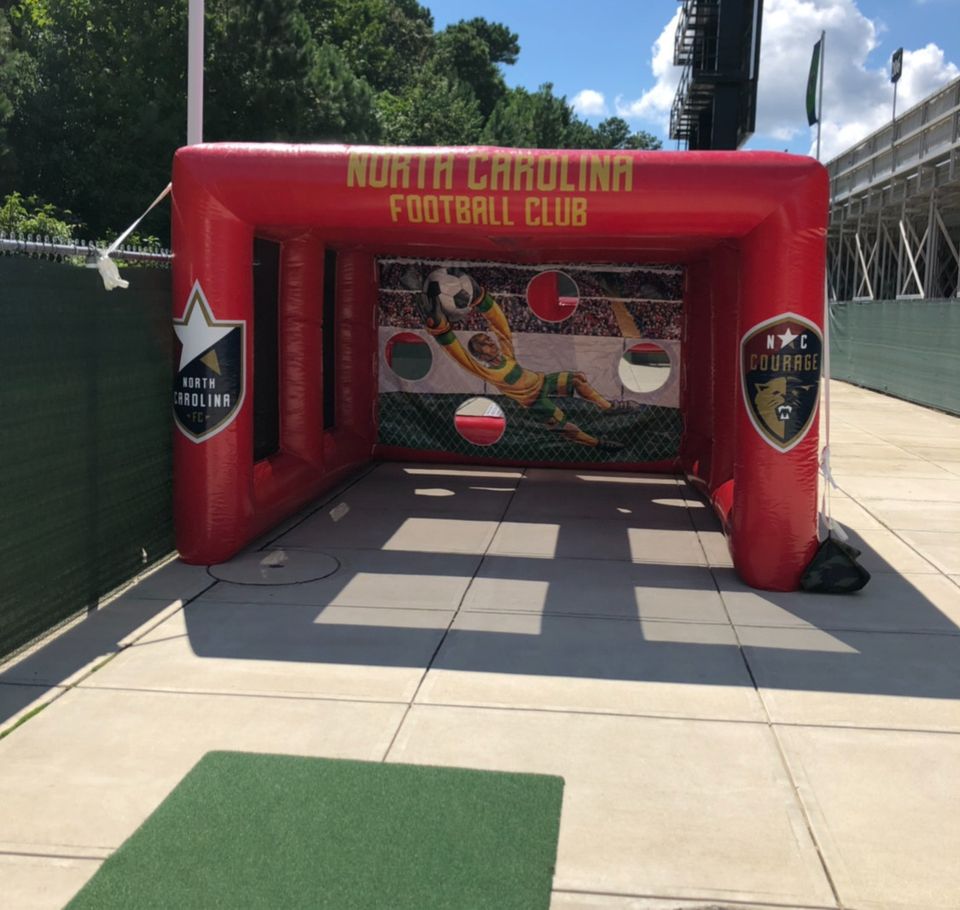 "GOAL"!  Shoot the soccer ball through the goalie's hands to score and win a prize.
Touchdown Equalizer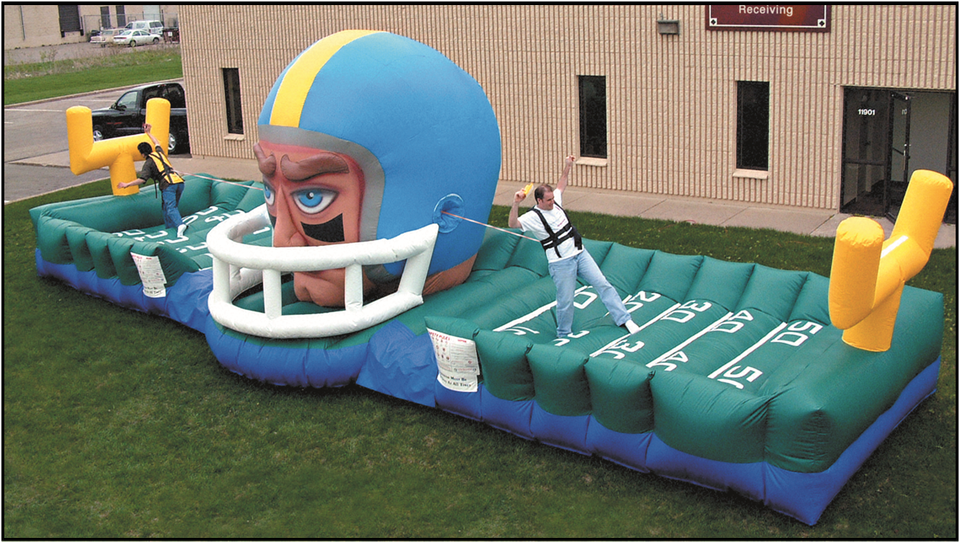 This interactive football inflatable, pits challengers against one another, using strength, competitors must run in opposite directions and cover as much distance as possible while pulling a bungee cord attached to one another's vest, competitors will run forward while springing their competitor backwards.

Dimensions: 12'W x 45'L x 14'H
T'eed Off Golf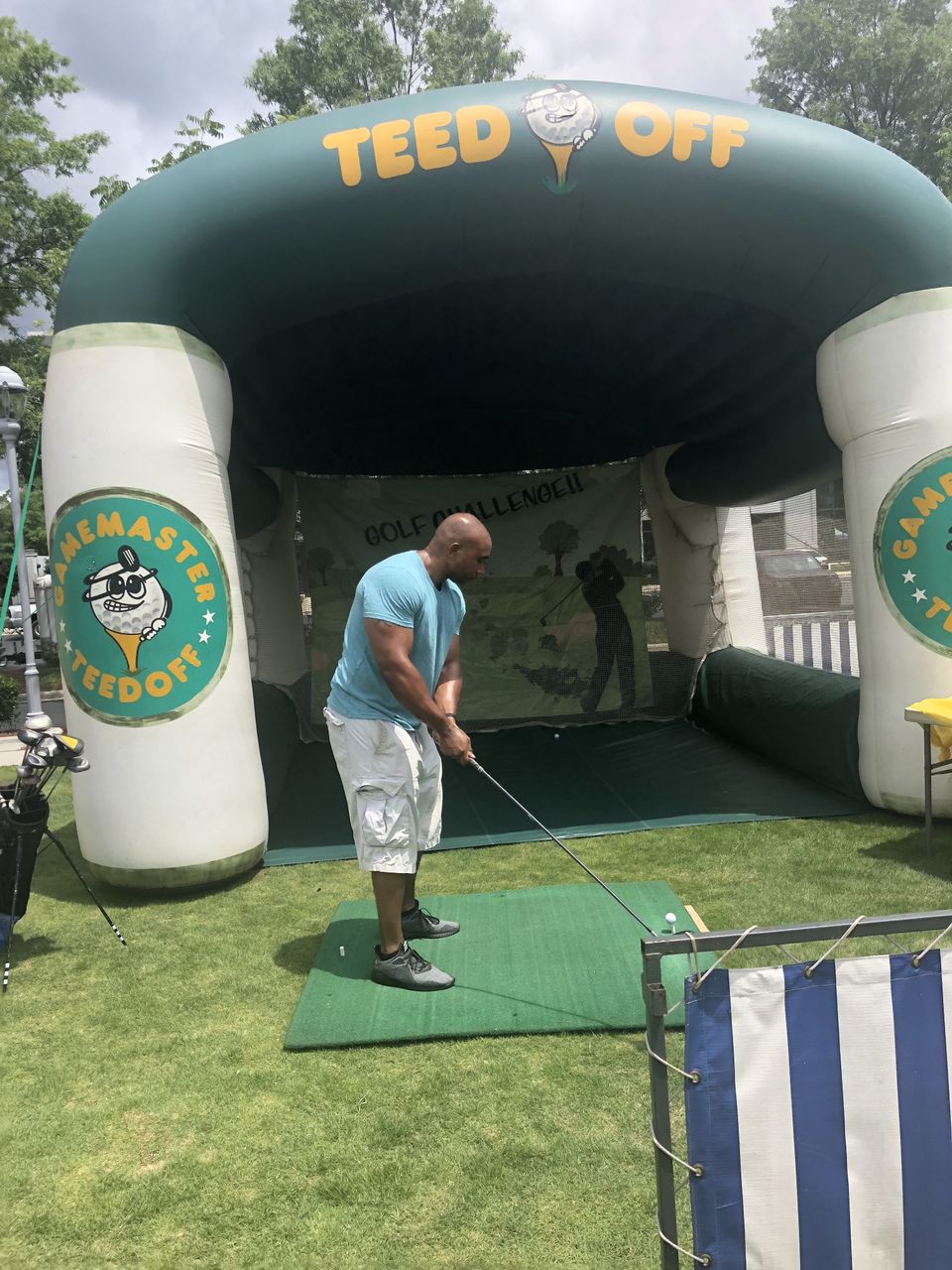 Golf game that measures your drive distance with a radar and shows you how far you hit the ball in the fairway. Can be used a competition for the longest drive at events with a prize for the winner.
Sumo Wrestling
Sumo will have them standing in line to try it out. We have two inflatable, oversized sumo wrestler suits with safety headgear. Take down your opponent for the win; best two out of three.
Big Ball Bowling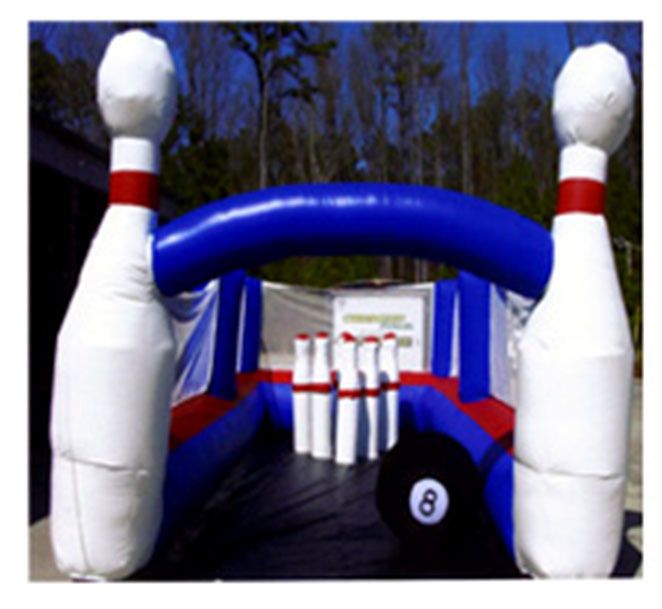 Roll the huge bowling ball and knock down the inflatable pins to win a prize.
Speed Pitch Inflatable Game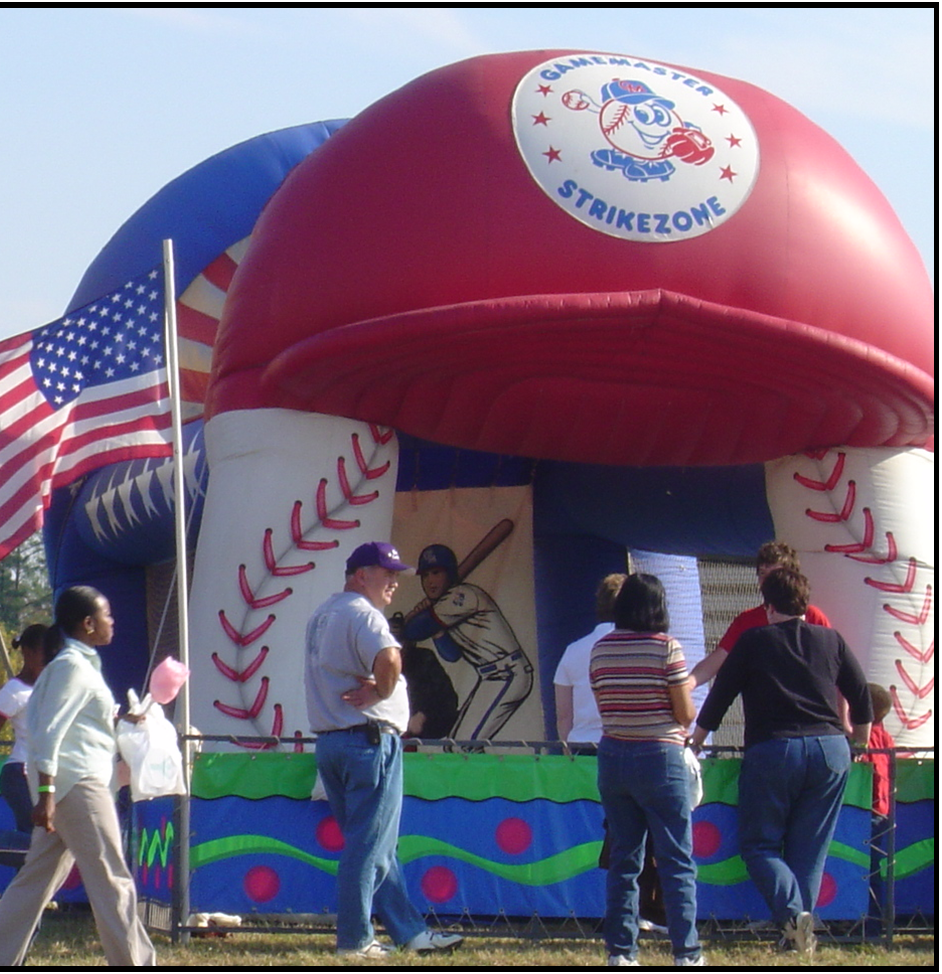 Baseball carnival game that measures how fast you can throw a pitch. See your speed on the first two pitches and guess the speed of the third pitch to win a prize.
Soccer Challenge
"GOAL"!  Shoot the soccer ball through the goalie's hands to score and win a prize.
Pedestal Joust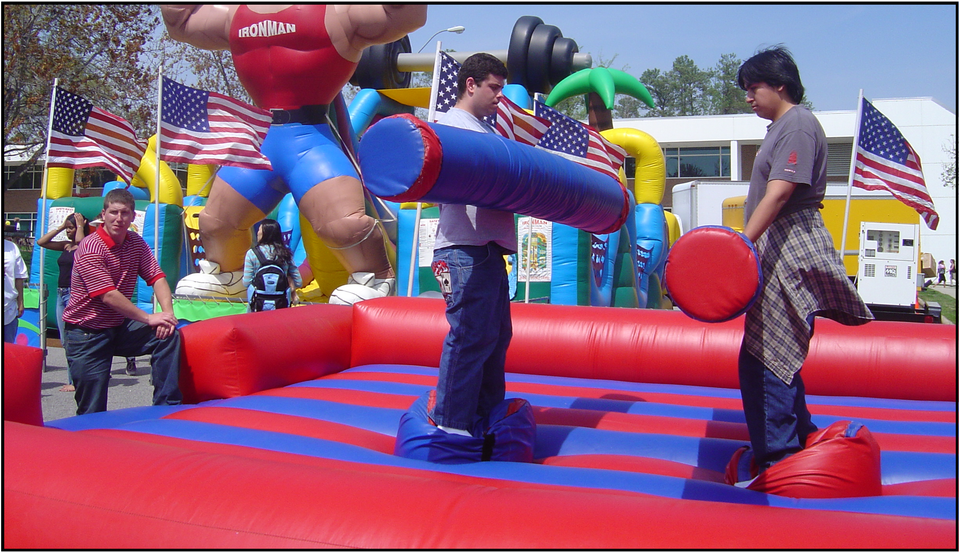 This Pedestal Joust game offers plenty of straight-up jousting. Players can challenge each other as they each climb up onto their own pedestal, using over-sized inflatable joust poles to try and knock one another to the game floor. 

Dimensions: 20'x25'
Pascars Pedal Cars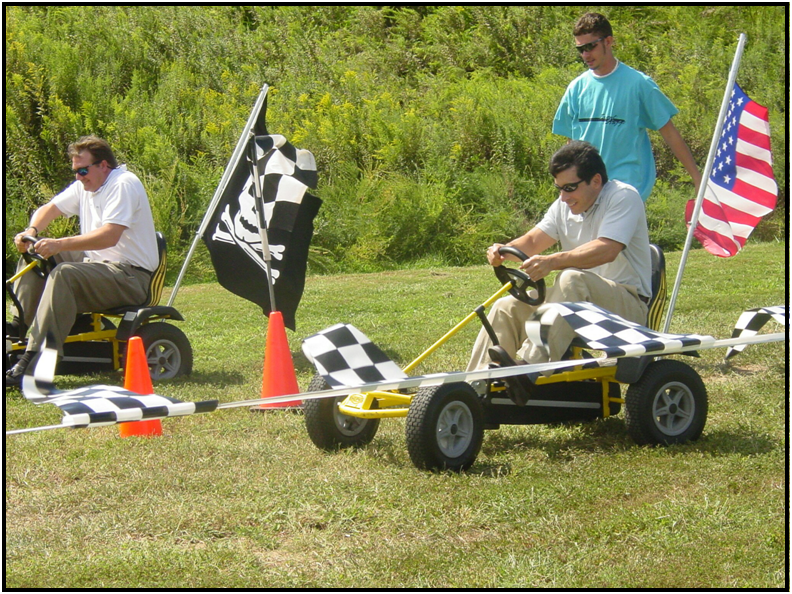 Race to the checkered flag with these fun pedal cars. Course is set up for two racers at a time.
Archery Tag

It's all the craze…….using foam-tipped arrows and inflatable bunkers, you eliminate opponents by hitting the targets and knocking them out. Set up like a course with a roped off area.
Basketball Challenge Full Court Press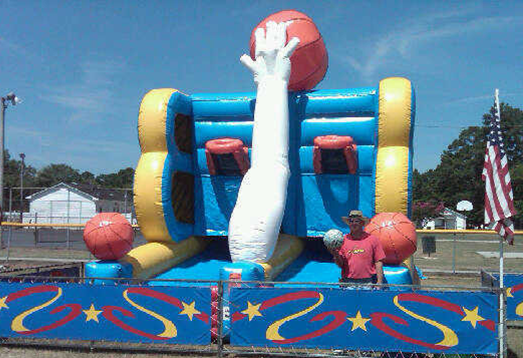 Shooting through the inflatable goals to score and win a prize.
Basketball Challenge Red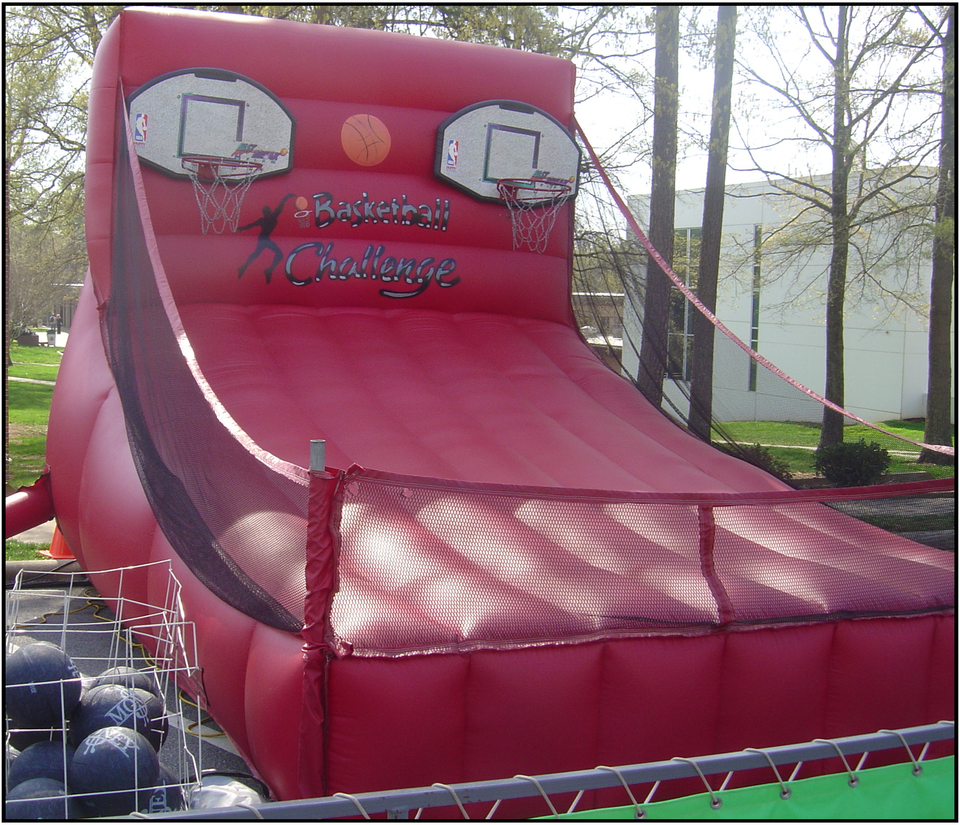 Shooting basketballs through the chains to win a prize.
Human Billiards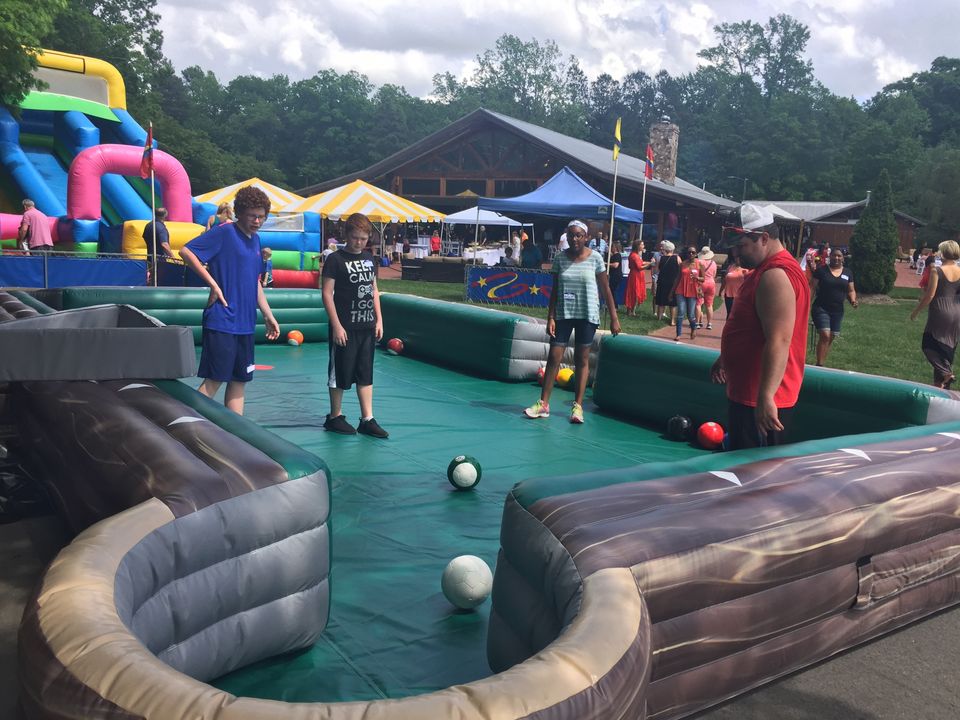 The game mixes your soccer skills and billiards skills on a large scale! Complete with a giant rack for the balls.

Dimensions: 30' x 17'
Basketball Challenge Shoe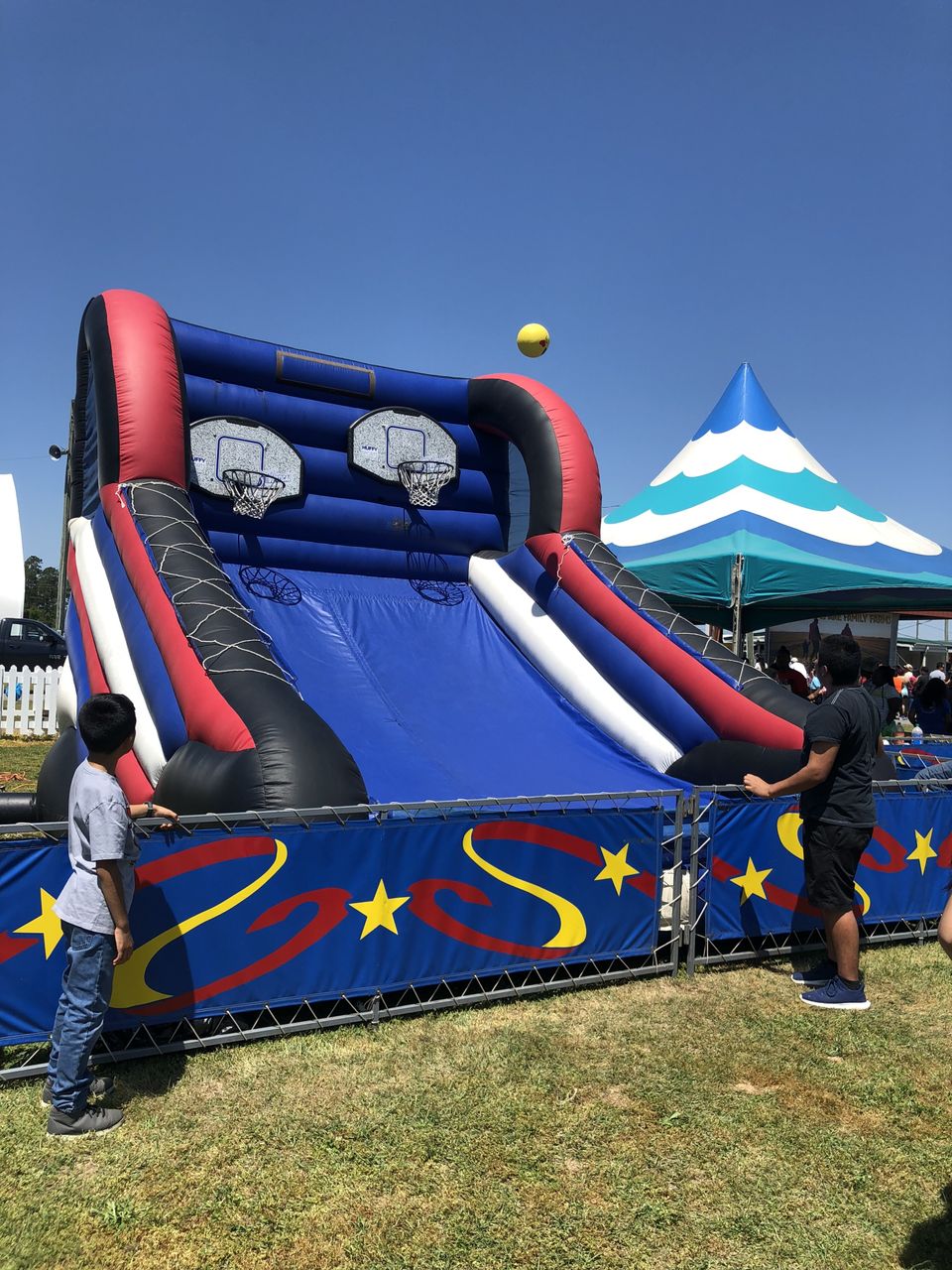 Inflatable game with laced up basketball shoe theme. Shoot, score, and win!
Bungee Run Challenge Triple Lane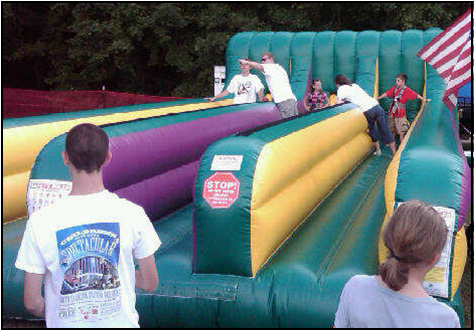 3 Contestants put on body harnesses that are attached with giant bungee cords. As they run down the 35' inflatable runway, tensioning the cords, participants try to place Velcro markers on the lane at the furthest point possible before the bungee cords yank them back down the soft, bouncy, racing lanes.
Big Glove Boxing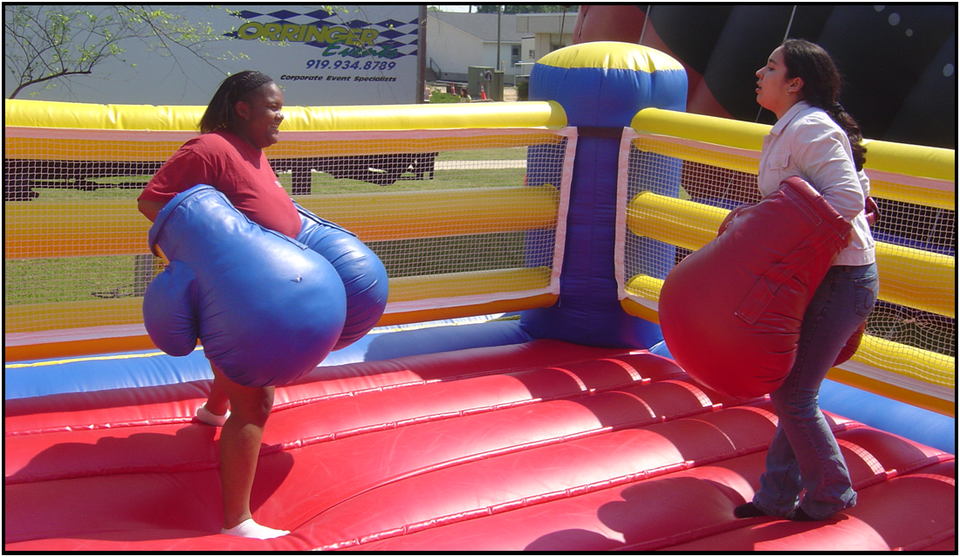 The inflatable boxing ring resembles a real boxing ring with the added safety features of the inflatable rails surrounding the ring. The ring is over-sized and padded boxing gloves make even the toughest swing seem like slow motion. Prepare to have fun with this one; it's hilarious to both watch and participate.
Cannonball Blaster Zone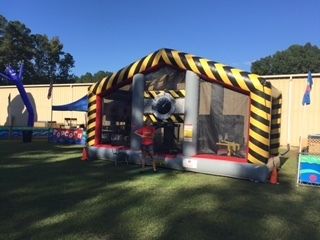 Ready, Aim, Fire! In this game it is not just the best shot, but who is the fastest shot too! 2-4 competitors do battle using low pressure air cannons that shoot soft foam balls. The object is to shoot your cannon balls into your enemy's target which is a net on the top of their cannon or a net on the inflatable behind them. It's fun for all ages! Safety goggles are used.                      

Dimensions: 23L      10W   10H
Field Goal Kick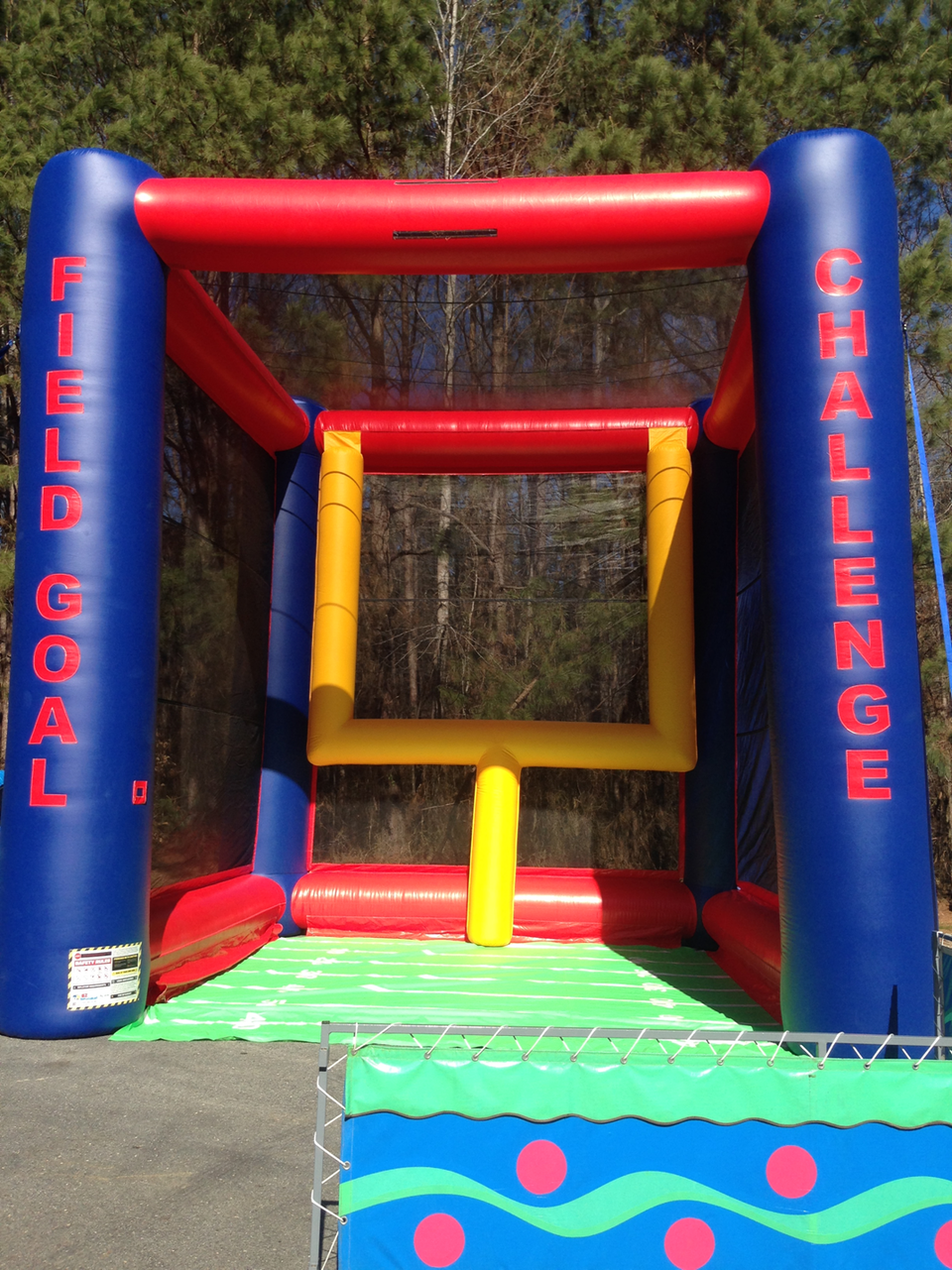 Test your kicking skills! Kick a regulation football off of a tee and through the uprights to win a prize.
Football Challenge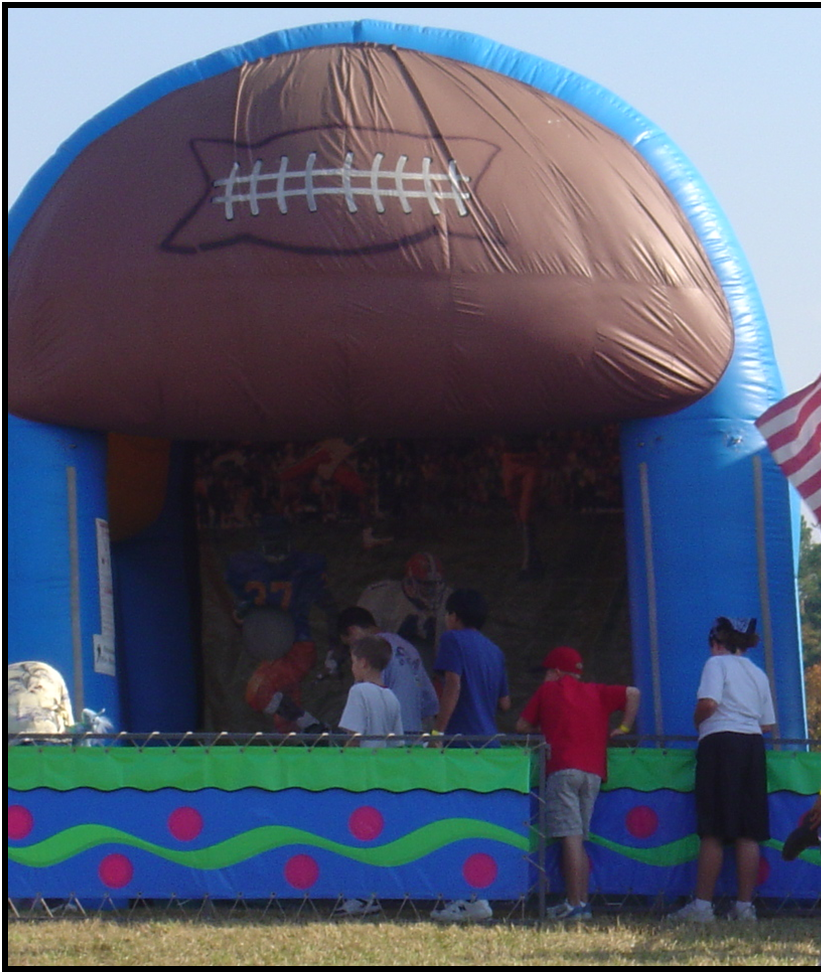 Test your quarterback skills!  Throw the football through the receiver's hands/targets in this fun challenge.
Golf Challenge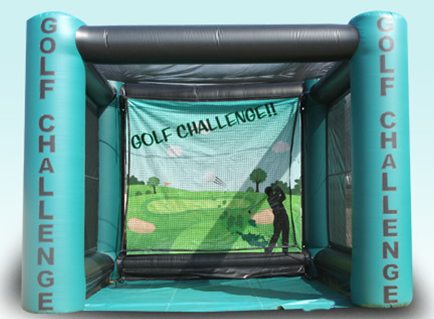 Tee it up and swing your longest drive for the chance for a prize!
Shooting Gallery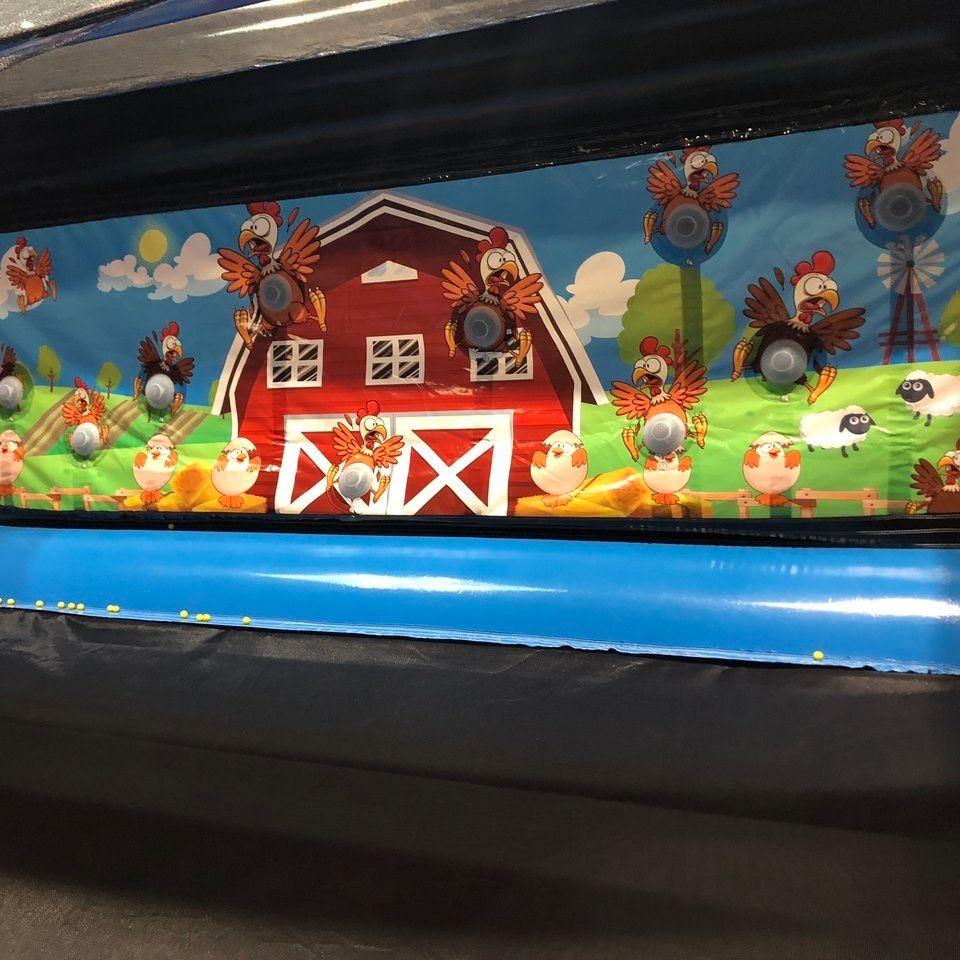 Sports Cage