Gingerbread Giant Slide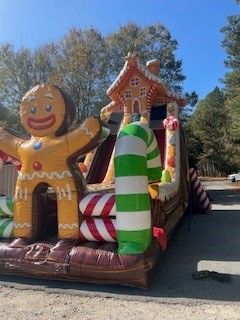 Dino Triple Slide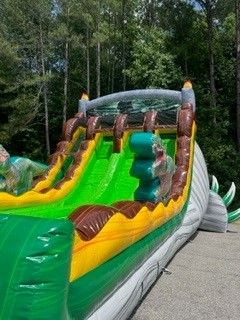 Half Pipe Dual Slide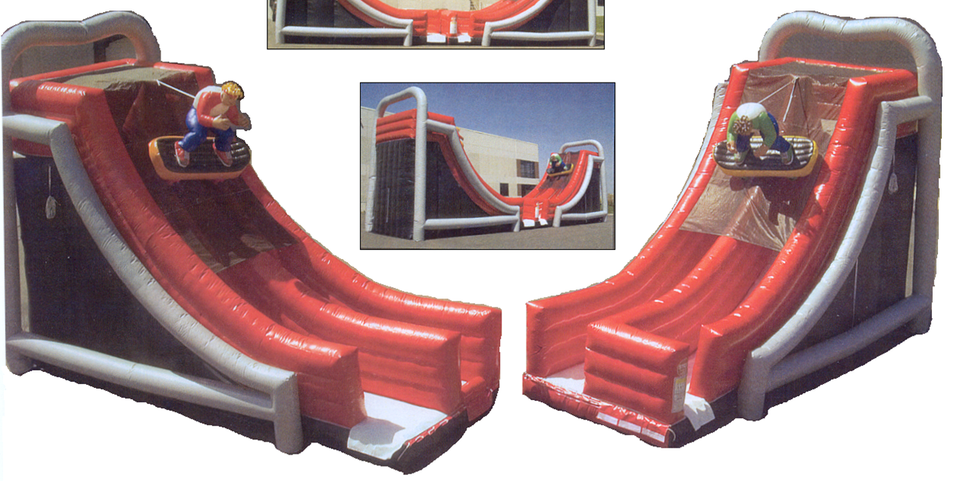 The half pipe slide is a hugely popular hit for skate boarders, snow boarders and all kinds of extreme sports lovers. It is also a very large unit and makes a great impact at any special event.
Dimensions: 60' L   15' W  20' H 
GI Joe Rock Climb and Dual Slidewith GI Joe Obstacle COMBO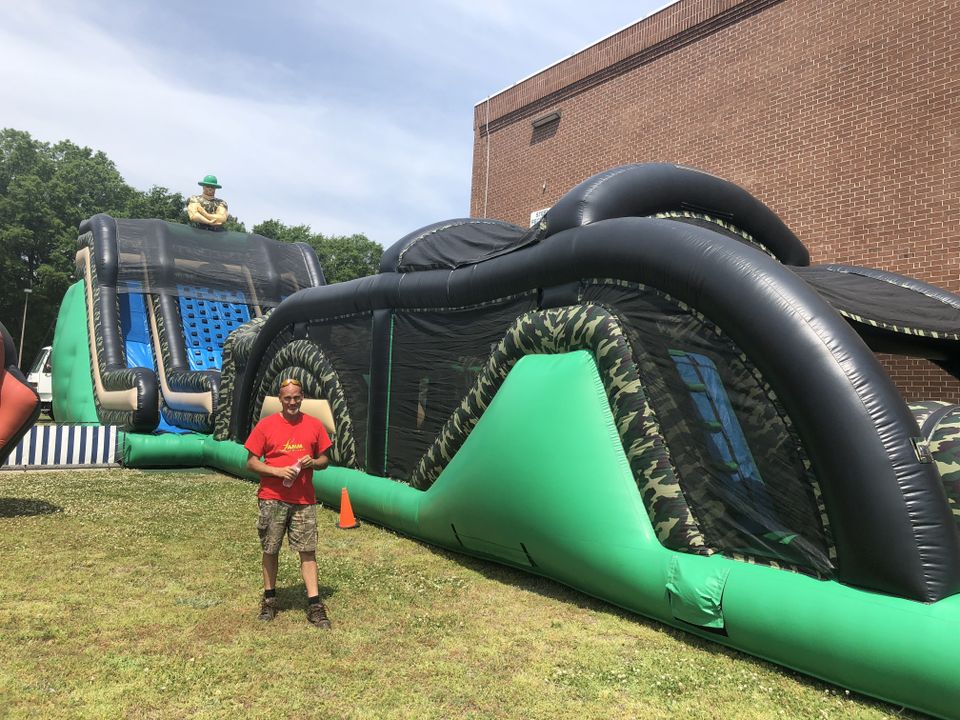 This amazing climb/slide/obstacle combo stretches out 87' and has you racing through the obstacle, then climbing up the rocks and sliding out for the win!
GI Joe Rock Climb and Dual Slide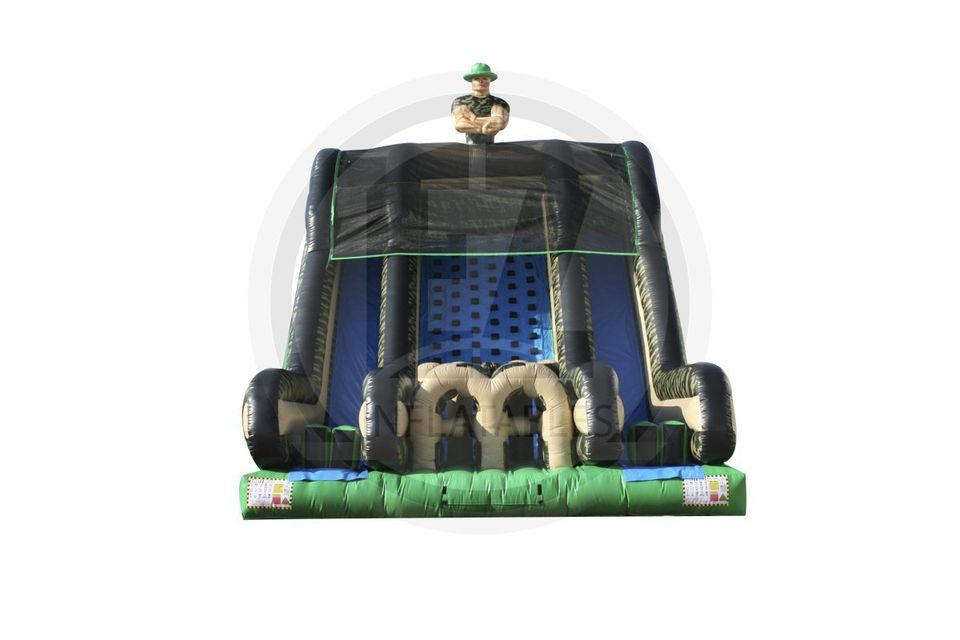 This awesome giant slide has a camo theme with GI Joe at the top. You climb the rocks to the top and slide down either of the two slides to the finish.

Dimensions: 30' L  21'W  24'H
Titanic Adventure Slide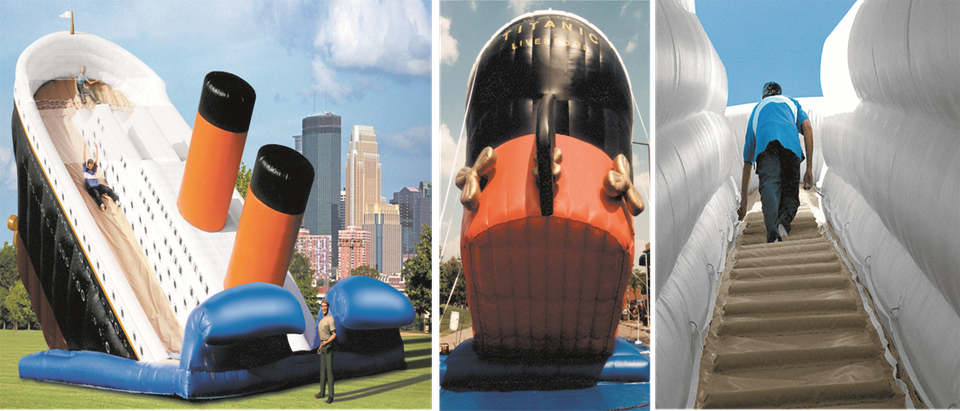 Titanic Adventure Slide is the most popular design ever made. Spacious climbing area, safety handrails, safety steps, and fast dual slide lanes allow each rider to ascend to the sliding areas with ease. The theme is a sinking ship and looks great from every angle.

Dimensions: 33' H    21'  W   51' L
 
Kong Triple Slide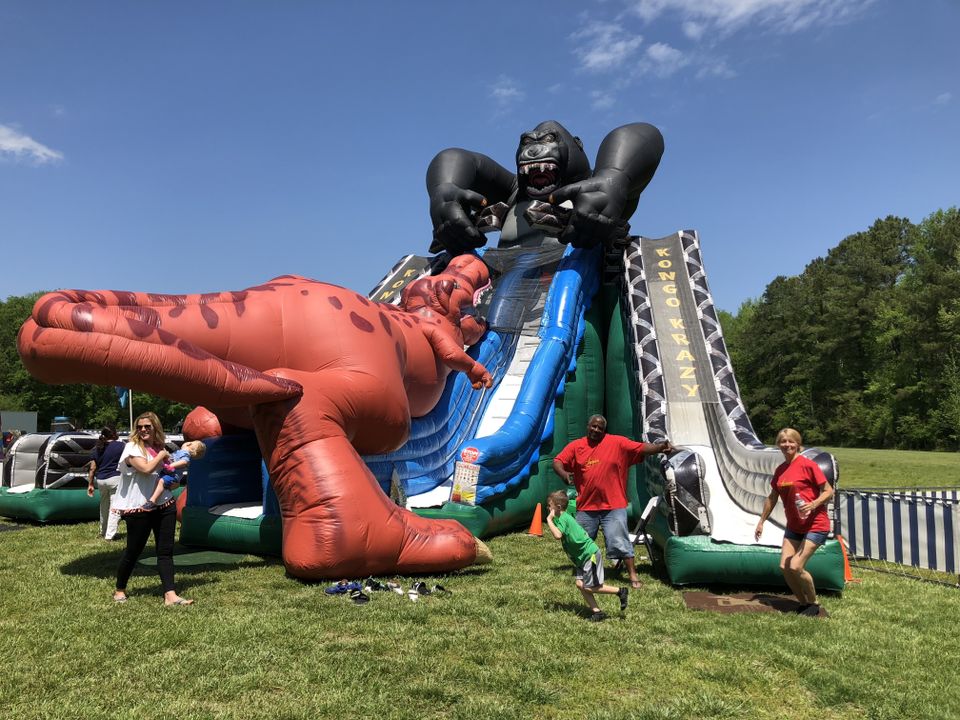 This thrilling triple slide inflatable features stunning digitally printed artwork and has 2 straight slide lanes, 1 waving slide lane, and a climbing lane.

Dimensions: 28' H    23'  W    46' L
 
Raiders of the Lost Temple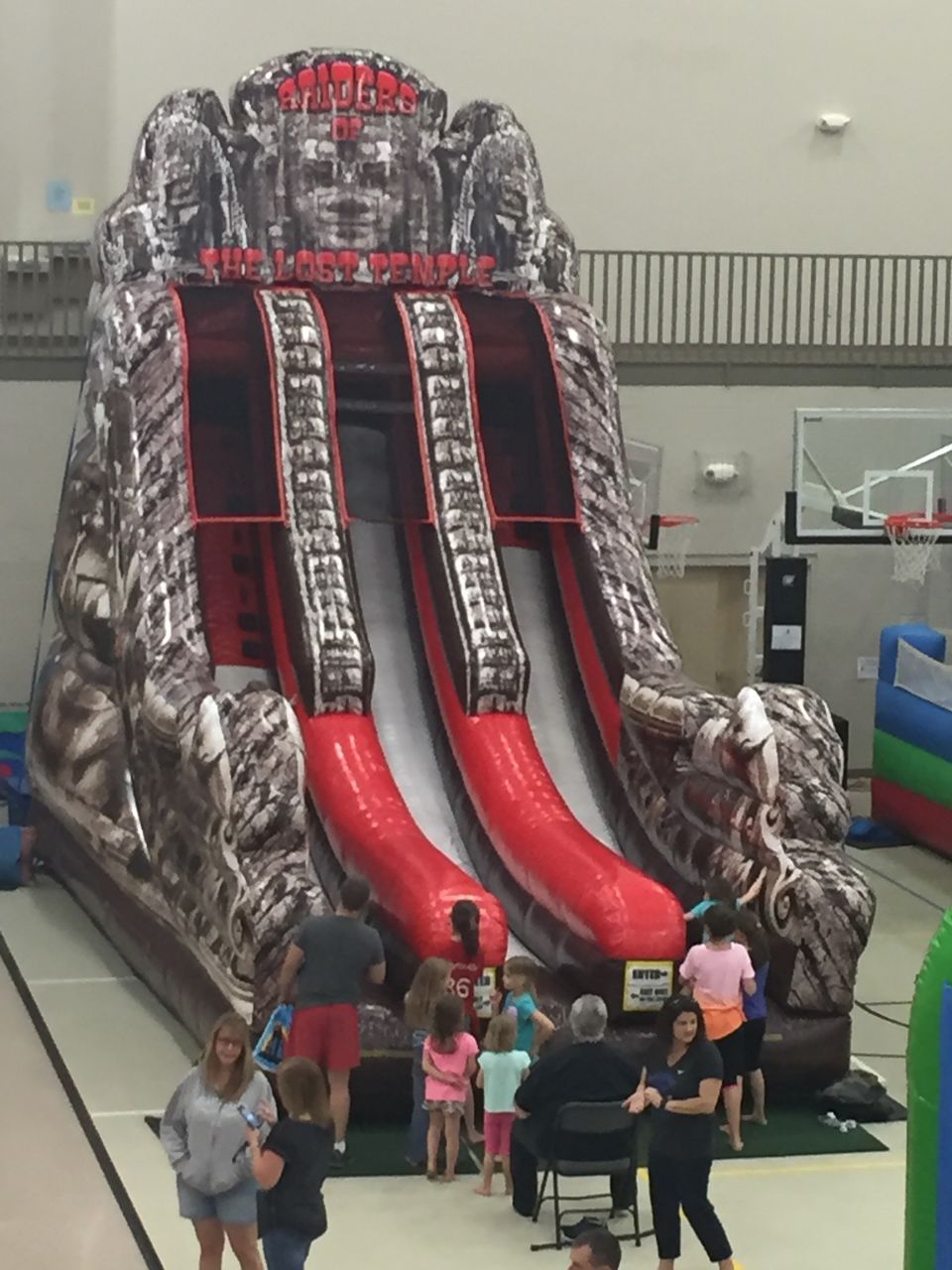 The participants climb up the slick surface to get to the top and slide down the Temple. This climb is a super fun challenge.

Dimensions: 28' L  17' W  22'H
 
Victory Lap Giant Slide
Put the pedal to the metal for a fast ride down the dual lane Giant Race Car slide! This slide is action-packed dual slide lanes.

Dimensions: 30' H     22' W     28'6"L
Dinosaur Double Slide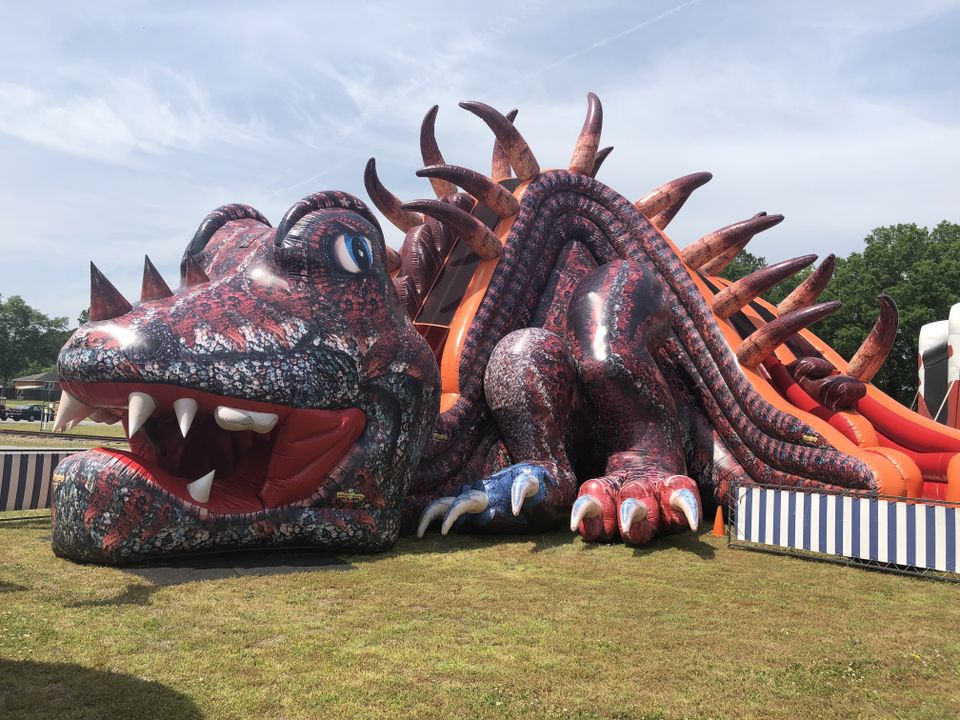 This amazing slide has great graphics and includes two climbs and two slides. Entrance and Exit are out of the giant Dinosaur's mouth.

Dimensions: 37' L   32' W   28' H
Cars Double Slide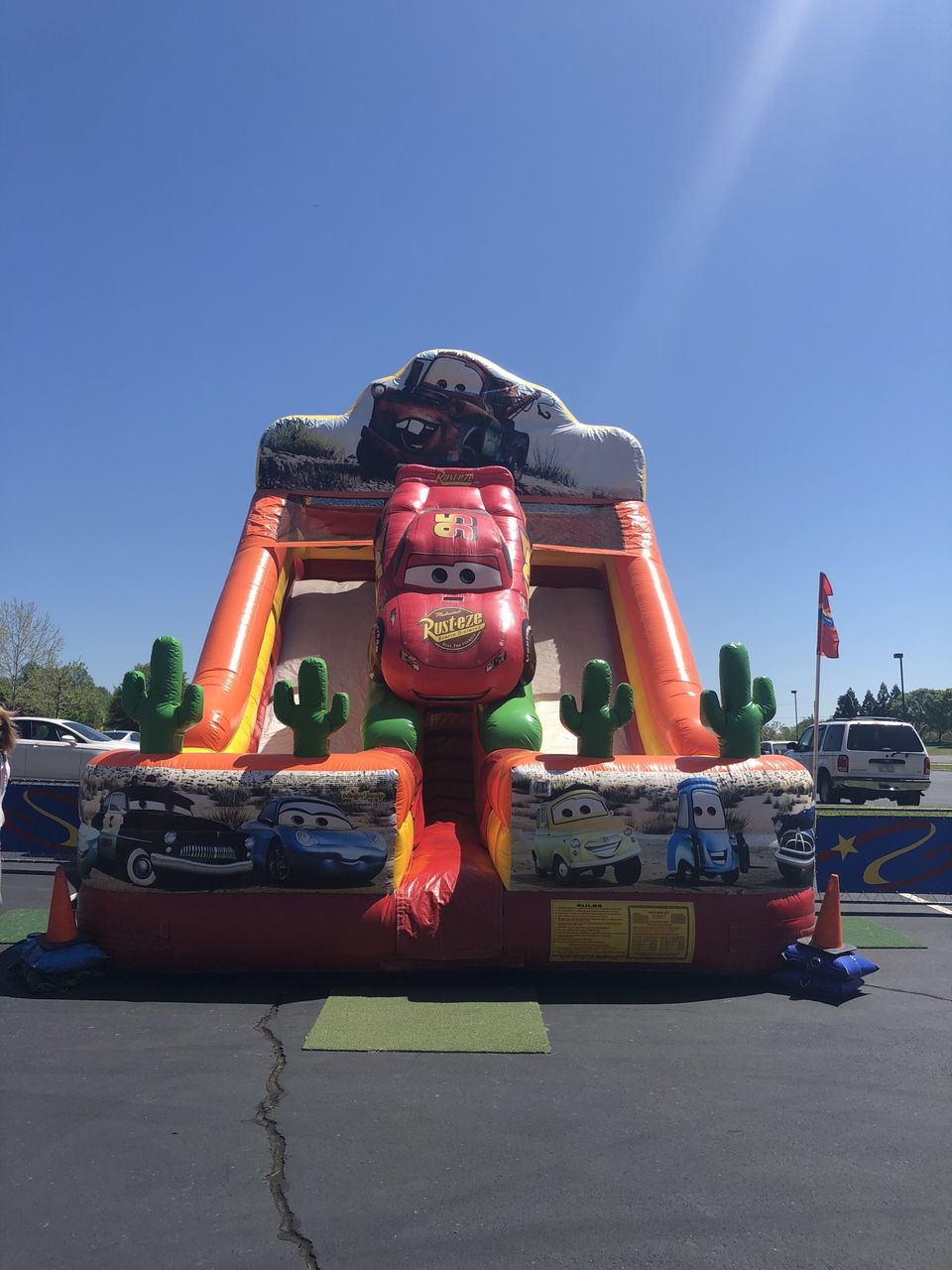 This Cars Slide puts inflatable Lightning McQueen, the incredible race car, and some inflatable American west cactus on the top of slide. In the movie of cars, McQueen and Mater are good buddies, so is the spirit of this inflatable slide with dual lanes, where kids can become good friends and all have fun together

Dimensions: 36.1'L × 26.2'W × 26.2'H